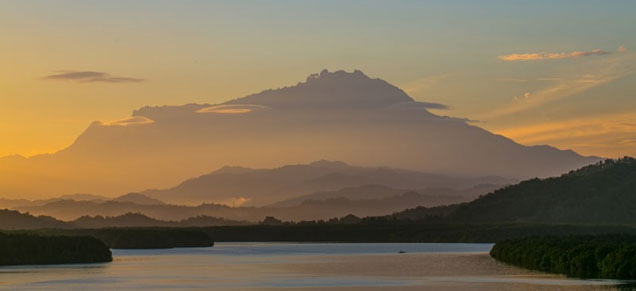 GENERAL INFORMATION
Kota Kinabalu, formerly known as Jesselton, is the city capital of Sabah as well as the capital of the West Coast Division of Sabah. Strategically situated in the Northwest Coast of Borneo Island, facing the South China Sea and Tunku Abdul Rahman Park on one side, and set against the backdrop of Mount Kinabalu; this beautiful 'Nature Resort City' stretches for miles along the coast and towards the inland.
Affectionately known as KK or Api Api by the locals, Kota Kinabalu is a popular tourism getaway and a major gateway into Sabah and Borneo Island. Apart from featuring a number of tourism attractions in and around the city, Kota Kinabalu is also one of the most thriving industrial and commercial centers in East Malaysia.
TRANSPORTATION
Getting around Kota Kinabalu is easy, thanks to the bus system, and that it is also easy to get a taxi. Another fact is the city centre which is mostly a south-north and west-east system with crosstown streets. There are also ferries to the islands and will you visit the boroughs, the buses will take you there
PEOPLES & CULTURE
The people of Sabah are known as Sabahans. Sabah is the third most populous state in Malaysia after Selangor and Johor; it also has one of the highest population growth rates in the country.
There are currently 32 officially recognized ethnic groups in Sabah with the largest non-indigenous ethnic group being the Chinese and the largest indigenous group being the Kadazan-Dusun people. Two other larger ethnic groups in Sabah are the Bajau and Murut, compared to other states in the country; Sabah has relatively very small population of Indians and South Asians.
Apart from the Sabahans' very own diverse mother tongues, Bahasa Malaysia (national language) and English is widely spoken; Mandarin and some Chinese dialects are also widely spoken.
COMMUNICATION
Mobile telecommunications cover many parts of Sabah with the exception of some remote areas. Public phones are scarcely available in most places.
CURRENCY
The monetary unit of the country is Ringgit Malaysia and is written as RM or MYR.
The exchange rate is valued at USD1 = RM3.98. Notes are available in RM1, RM5, RM10, RM20, RM50, and RM100 denominations, while coins are issued in 5, 10, 20 and 50 sen (cents) denominations.
Foreign currencies can be exchanged at banks and money changers.
View the latest exchange rates here
www.xe.com
.
CLIMATE
Equatorial/Tropical - the climate is generally hot and sunny all year round; visitors need to wear comfortable clothing to avoid heatstroke. We also have scattered unpredictable rains, therefore, it's advisable to always bring an umbrella in case it rains.
PRACTICALITIES
a) Time
Standard Malaysian Time is 8 hours ahead of GMT (GMT+8)
b) Electricity & Water Facilities
Electricity is on the 240 Volts AC/ 50-Cycle system; treated pipe water is available in most urban and sub-urban areas.
Type G plugs are used in Malaysia.
Source: http://www.sabahtourism.com/essentials/travel-tips